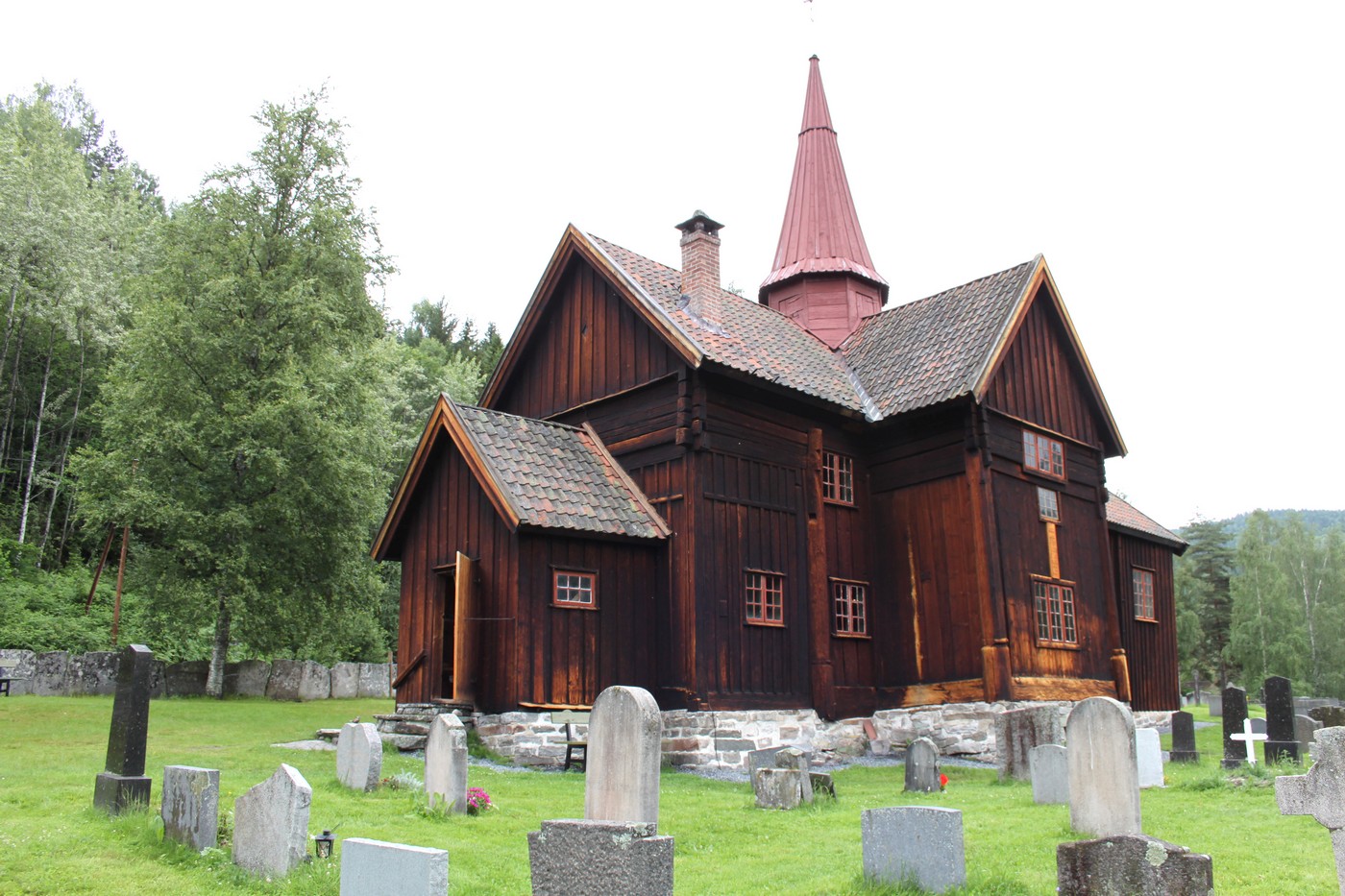 Rollag Stave Church is located in the beautiful countryside on the east side of the river Numedalslågen, with the presbytery and the Rollag historic farmstead as close neighbors. Rollag Stave Church was built around 1150 and was originally a small stave church with an apse and a gallery.
The church retained its original shape until 1652. When Knud Winter became a priest here in 1651, he started a reconstruction of the church. Over the next 100 years, the church underwent major changes.
In 1652 -1653 windows were constructed and the church was decorated. In 1666, a new and larger apse was built, and in 1670 Winter and his wife gave the church a magnificent baroque altarpiece. The apse was redecorated in 1683 in line with patterns in the old apse.
The transepts were built in 1697 - 1699 and the galleries in 1702. A large wooden board were attached to the outside wall, inscribed with the royal monogram of Christian V (King of Denmark and Norway) and the year 1697 when the transept was built. The board also has the inscription "IHS" at the top (Iesus Hominum Salvator - Jesus, Savior of men). This is the first time a royal monogram is carved in wood in Numedal.
In the 1770's, all the wall decorations in the church were covered in blue paint. The underlying decorations were uncovered in 1932 -33 when the church was restored. Nore and Uvdal stave churches have similar decorations. The church has art from both the Middle Ages, the baroque and the rococo periods.
The altarpiece is a Baroque masterpiece from 1670 and has an ornately carved frame. The altarpiece also has a recessed relief of the Eucharist. This is a casting of a silver relief in Frederiksborg Castle Church in Denmark and a design by Durer: Kleine Passion. A relief of Mary with baby Jesus from the 15. century is in the center and a crucifix from the same period is mounted at the top. On top of the altarpiece, a figure of Archangel Gabriel is blowing a trumpet. The gallery parapet was painted in 1722 and the motifs are Jesus, the apostles and others.
The pulpit is the first rococo artifact in Numedal. It has one panel for each of the four evangelists. The fifth panel has this inscription: Painted in 1763 by E. Dram (Ezechiel von Dram). He also worked on decorations in Kongsberg Church. In 1763 he painted the altarpiece in Veggli stave church.
Opening hours
Opening hours during the summer season (June 18 to August 14) Every day from 11 AM to 5 PM
Image gallery
(Click on an image to see a larger version)
External links (Norwegian)
- Syndefallet skjult for menigheten i 250 år