Visit the forests where Fridtjof Nansen and King Haakon hunted!
The forest trail leads you through a 2,5 km long forest terrain. The trail includes 13 information posters about the forest, nature and cultural history. The trail is well marked. The trip takes from 1-3 hours, depending on your pace. Bring some food and enjoy the hike. Use hiking shoes!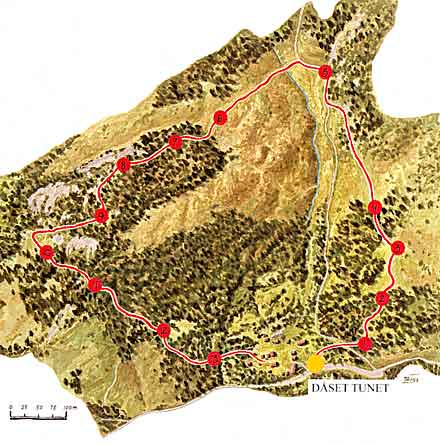 Topics of the forest trail
1. Monitoring of forest health
2. Arable land turned to forest
3. The Liset Croft (small farm)
4. The Flesberg forest
5. Bedrock and soil
6. Forest regeneration
7. The Strand farm
8. Dåset forest farm
9. Wildlife habitat
10. Historical forestry
11. Key habitat
12. Marshes in the woodland
13. The road to Dåset
Forestry has always been central in Flesberg and this is symbolized in the municipal coat of arms, showing two timber claws.
Every year 60,000 cubic meters of timber is extracted. There are 130 full time equivalents (FTEs) related to the forestry and wood processing in Flesberg. The forests provide great opportunities for recreation and outdoor activities. There are good fishing opportunities and a rich flora and fauna. The forests grows all the way from the fertile valley up to the barren grounds in the mountains.