Many nice and affordable accommodation offerings await you during The Medieval Week. We have negotiated favorable pricing agreements with our partners.
Lampeland Hotell, Lampeland 3623.
Modern hotel with a personal touch, warm and pleasant atmosphere. Accommodation in comfortable rooms with solid breakfast, free Wi-Fi and free parking.
Special price on accommodation in The Medieval Week (Booking code MIU2016)
NOK 595, - per person in double rooms (breakfast included)
NOK 895, - per person in single room (breakfast included)
Special price connected to The Medieval Tour (Booking code MIT2016)
NOK 495, - per person in double rooms (breakfast included)
NOK 795, - per person in single rooms (breakfast included)
(Price is valid per night for participants on the Medieval tour).
Reservation / information: www.lampeland.no Tel: +47 32 76 9 0 Email: This email address is being protected from spambots. You need JavaScript enabled to view it.
---
Summer Hotel on the sport boarding school, 3626 Rollag
Accommodation in the middle of the medieval valley, close to Rollag Bygdetun, Trillemarka and the medieval workshops. The school is co-host of the medieval workshops.
Special rates for participants / the public and performers on the Medieval Week:
Single room including breakfast and linen: NOK 375 per night.
NOK 300 per person in double room (breakfast included)
www.idrettsskolen.com
Phone: +47 31 02 38 00
Email: This email address is being protected from spambots. You need JavaScript enabled to view it.
---
Uvdal Hostel, 3632 Uvdal
A well-preserved "sheriff farm" from 1905. Total capacity of 44 beds divided on main house and an annex. Free wireless internet!
Special prices during the Medieval Week: 10% discount these prices:
Single room: Kr 330,-
Double room: 445,-
Linens and towel: Kr. 105,- per person
Breakfast: Kr 75,- per person
Booking and information: www.hihostels.no/uvdal
Tel +47 32 74 30 20 / +47 913 35 607
Email: This email address is being protected from spambots. You need JavaScript enabled to view it.
---
Northern Underberget farm, 3620 Flesberg
Old cabin by the river High standard with historical atmosphere. Completely restored log cabin from 1830.
Up to 8 people NOK 1350, - per. night, including electricity.
If cleaning or other is needed, it can be arranged on request.
Booking and information: www.blefjell.com
Tel +47 32 74 79 00
Email: This email address is being protected from spambots. You need JavaScript enabled to view it.
---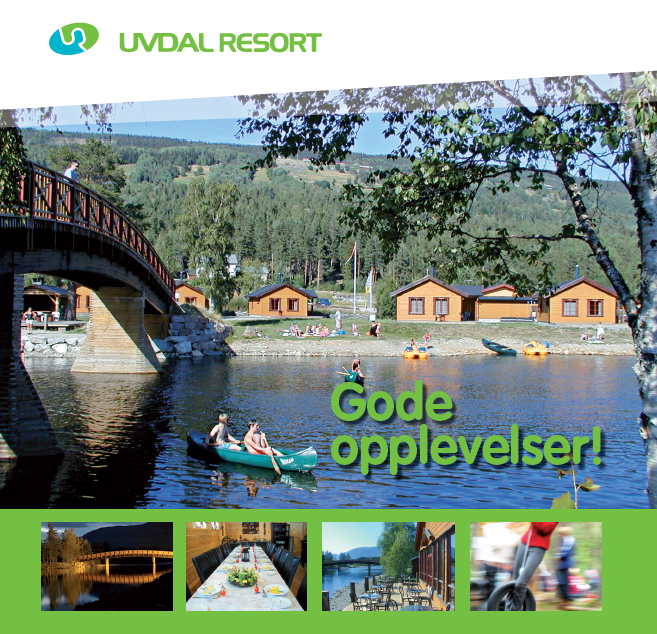 Uvdal Resort, 3632 Uvdal
Located in Uvdal centre. Cabins with high standard in a relaxed setting, ideal for families. Various activities offered. Hiking and fishing opportunities nearby.
Accomodation from NOK 850,-.

Special prices during the Medieval week: 10% discount on all priceswhen pre-ordering by phone.
More information: www.uvdalresort.no
Tel: +47 32 74 31 08
E-mail: This email address is being protected from spambots. You need JavaScript enabled to view it.